Nelson Mandela said, "Education is the most powerful weapon which you can use to change the world."
Year after year for over two decades, the KPA scholarship Committee and its Board of Directors are gratified to provide small, annual scholarship awards to a group of talented and bright high school graduates selected from all high schools in the LBUSD. This momentum in producing effective tomorrow's leaders has been the utmost goal of KPA. The main mission is paving the Golden Path to success for today's minority youth with the most financial needs in their pursuit of higher education. This scholarship will enable them to explore their dreams, to reach their potential, so they can be competitive in our global job market after obtaining their college degrees.
Federick Douglas said, " It is easier to build strong children than to repair broken men." That's why on Saturday, June 2, 2018, the Parr Health Enhancement Center at St. Mary Medical Center housed approximately 200 attendees including scholarship recipients, high school graduates, parents, grandparents, siblings, elected officials , their representatives, the school Board President and a member, high school counselors, teachers, scholarship sponsors, donors, community leaders and volunteers came together as one community to celebrate the achievement of those young, bright recipients. This obviously showed young people that we care about them and wanted them to succeed in life because like Anthony J. D'Angelou stated, " Without a sense of caring, there can be no sense of community."
This beautiful support will give these youth from different ethnic backgrounds, such as African American, Cambodian, Lao/Thai and Vietnamese, an opportunity to strive and thrive in their endeavors. Your investment is important because, "No other investment yields as great a return as the investment in education. An educated workforce is the foundation of every community and the future of every economy." (Brad Henry). I am very grateful for the endless and generous support from everyone in the community, in the city and several elected officials who stood by my side to embrace and value the education of our children. Your personal commitment to youth education means more to me than any other gift in the world because I know that only education will make their lives productive and prosperous.
The celebration was kicked off with the welcoming remark from Carolyn Caldwell, Hospital President & CEO, Dignity Health, St Mary Medical Center.
Furthermore, for two years in a row, we were very blessed to have Attorney Minh T. Nguyen, from Nguyen Lawyers, gracefully match every dollar that KPA received for the scholarship awards. Also, I would like to express my gratitude to St. Mary Medical Center for providing the beautiful venue, the T-shirt sponsors, lunch sponsors, flower sponsors, door prize sponsors, interpreters, and program booklet sponsors.
Lastly, thanks to Mr. Sean Devereaux for providing the recipients with 2 tickets each to the Aquarium of the Pacific.
Forever Grateful,
Chan Hopson,
KPA, Executive Director
Congratulation to the Khmer Parent Association, under an excellent leadership of Mrs. Chan Hopson and its Board members, for organizing another successful 2018 Southeast Asian Scholarship Awards event at St. Mary Hospital today.
It's a great honor for us to have the following dignitaries in attendance:
- Honorable Assemblymember Patrick O'Donnell.
- President and CEO, St. Mary Medical Center, Ms.Carolyn Caldwell.
- LBUSD Board President, Megan McGuiness Kerr.
- LBUSD Board member, Dr. Felton Williams.
- Westminster District School Board member, Mr. Jamison Power.
- Field Representaive of Mayor Robert Garcia, Ms. Abigail Mejia.
- Field Representative of Congressmember Alan Lowenthal, Mr. Phong Ly.
- Former Executive Director of UCC, Dr. Sara Pol-Lim
- A principal lawyer at Nguyen Lawyers, Mr. Minh T. Nguyen, Esq.
- Attorney, Belinda Theam, Esq. and
- Former Chair of the Pacific Islander Caucus, USA Sir. John Taeleifi.
Big congratulation to all Scholarship recipients and our sincere appreciation and gratitude to all of our event donors, sponsors, volunteers, Khmer translators, parents and guests who came out to support this great cause. We are forever grateful. God bless.....
MC: Charles Song, Facebook
Chandara Lee: It was an opulent event endowed with dignitaries and distinguished speakers, especially Mr. Minh T. Nguyen, the keynote speaker. His message was encouraging and appreciated.
Ms. Chan and Mark Hopson and the KPA are outstanding.
You, as well for the energetic Emcee.
The HS graduate's message was interesting.
Congratulation to all!!!
Planning Committee
Chan Hopson, Chair
Sophia Tran, Darith Ung, Mark Hopson, Lillian Herrera, Lindsay Gervacio, Mario Gonzalez, Jocelin Padilla,
Kimthai Kuoch, David Kem, Abigail Meja, Victor Chhay, Phatana Ith, Phoumea Hong, Karla Estupinian, Jennifer Kumiyama, Sinara Sagn, Charles Song, Dr. Suely Saro, Vattana Peong , SGM. Wright, Olivia Maiser, Phong Ly, Herlinda Chico, Brenda Caloca, Marisol Barajas, Sothea Sok, Darakeo Sok Ros, Roth In, Belinda Theam, Esq., Kheang Phung.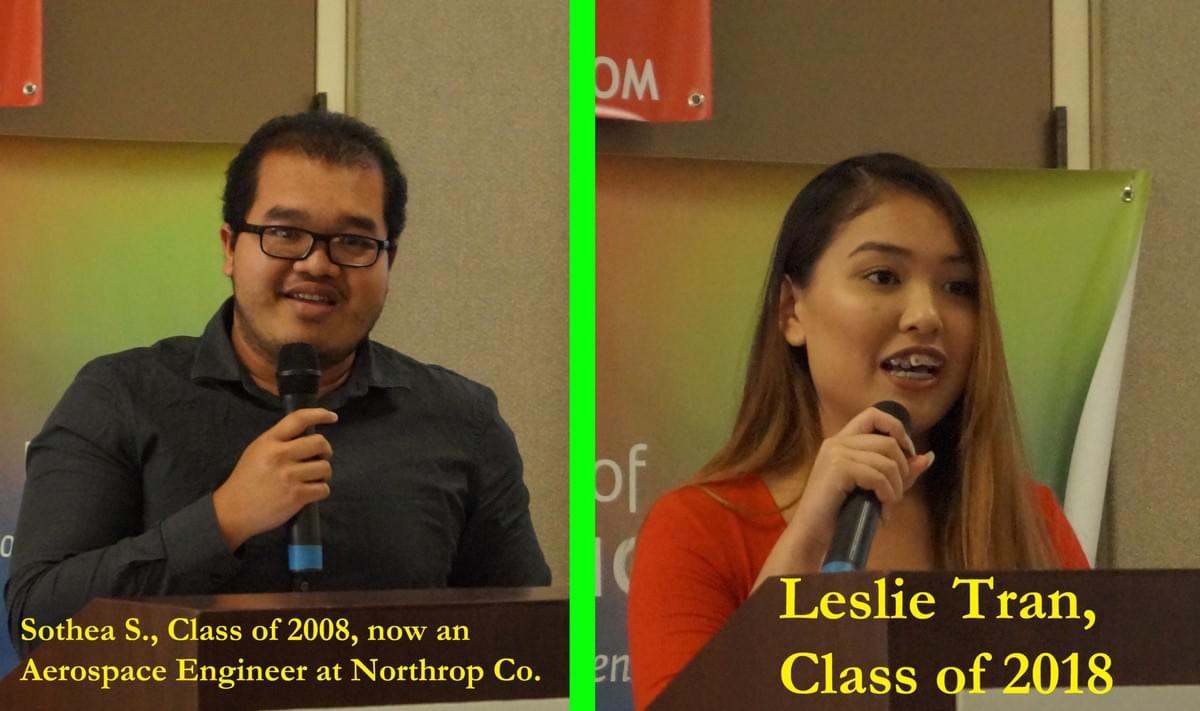 Heartfelt Congratulations to the Class of 2018 Scholarship recipients!!!!
Class of 2018 Scholarship Selection Committee:
Dr. Christina Lee, Kanika Prom, Camille Keo Campos, David Kem, Sophia Tran
Volunteers
Brandon Yi, Trish Do, Sophya Tran, Jaylene Thach, Keatha Kong, Roth Prum, Kheang Phung
ROTC Cadets under SGM Wright:
Lenny Khan, Nelson Oun, Michele South, Yulianna Hernandez, Shaina Tudayan, Rian Tran
Sofia Amores, Andrew Orosco Cherice Sankeralli Jasmin Jallorina Calvin Boonlua
Sreyla Chea Carlos Rodrigues Roxanne Gallendo Karla Ramirez Irma Maldonado
Volunteers from Wilson High under Darith Ung:
Amalee Chan, Sokkunsah Kong, Angelina Tran, Andrew Yom
LBUSD Board/Counselors/Teachers
President: Megan Kerr, Board Member: Dr. Felton Williams,
Kimberly Johnson-Agulto, Russ Anderson, Kelly Meade, Darith Ung

Some of the lucky door prize winners.
FB: Rossesnny Khlot Congratulations to all students thankful Khmer parent Nak bong Chan Hopson & Mark Hopson especially for all Boards members....good luck everyone
The Class of 2018 Scholarship Recipients Leadership Development Training on June 16, 2018.
Again, congratulations and best wishes to the Class of 2018 for the fresh start in your Freshman year !